A new partnership will improve the quality and breadth of services provided for both sets of customers; establish a market leading housing association specialising in Shared Ownership and market sales for the North West; build at least 11,000 new homes over the next 10 years to help tackle the housing crisis and improve efficiency in both organisations.
There are a number of reasons why Great Places stood out throughout the selection process, here are some of those reasons:
Natural geographical fit:
Both organisations operate across similar geographies, if you look at the map below you will be able to see just how many communities we have in common and where we don't have shared communities one or either of us has some homes, helping to join up the communities across the region.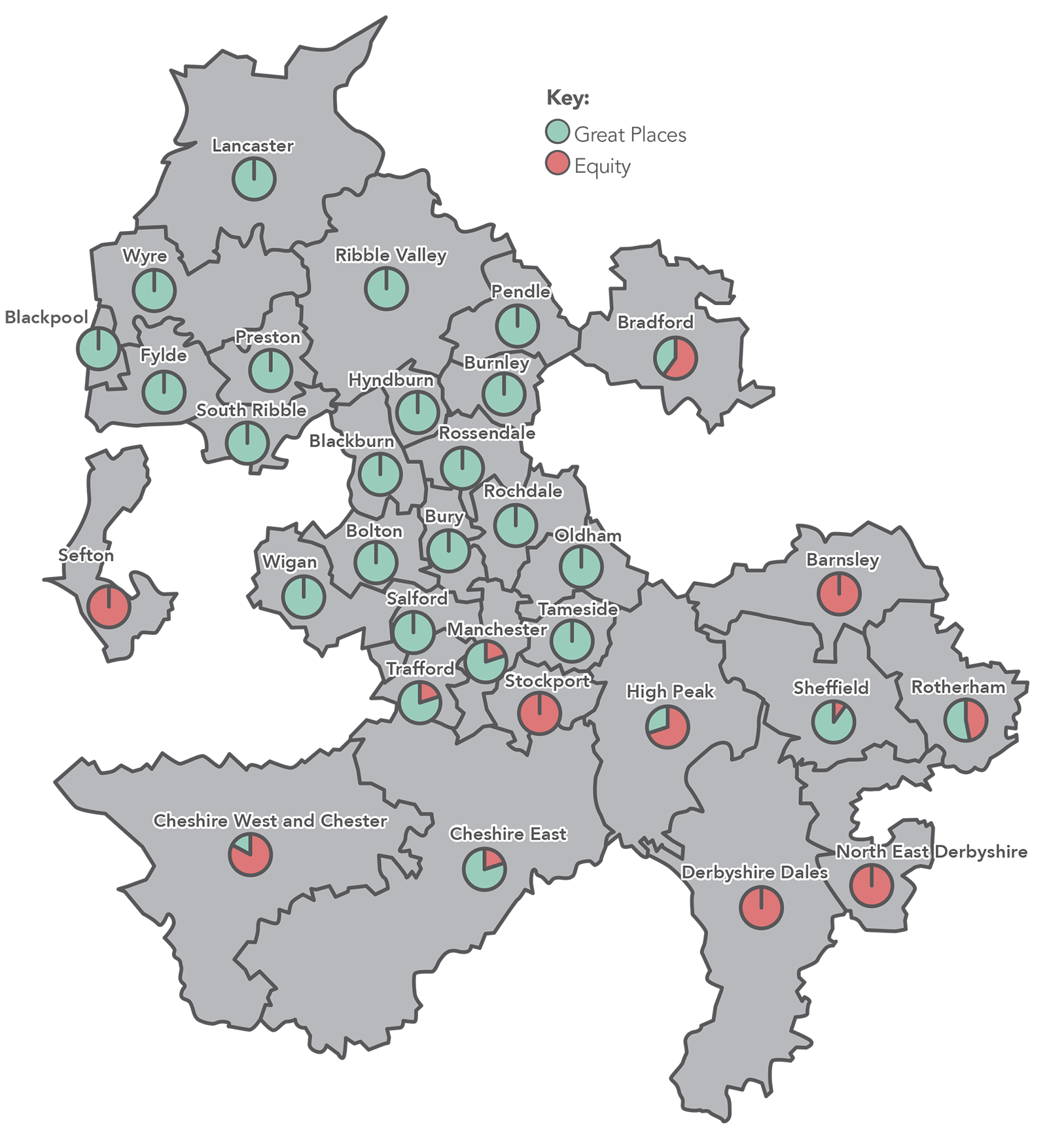 Improved quality and breadth of services for customers:
By coming together as a single organisation, we believe we will be able to offer customers a wider choice of higher quality services and be better placed to provide solutions and responses to meet the needs of our residents and partners.
The complementary geography of Great Places and Equity offers opportunities to streamline services to be more efficient and more effective, as well as continuing to be locally responsive.
The combined organisation will have the resource and expertise to invest in the development of services such as:
Increased digital opportunities

– technology based services making it easier and more cost effective for customers to access services and will complement our digital by default approach.

Tailored Services

–

through a combination of effective customer involvement and the use of data we will strengthen our customer insight to ensure we deliver services tailored to the needs of individuals and communities.
Older People

– the combined organisation will have a significant proportion of older tenants and we will seek to implement innovative solutions to supporting independence including the use of technology, tailored support and the effective design and investment in new and existing homes.

Leaseholders

– our intention is to be a national centre of excellence for Shared Ownership and leasehold management, ensuring our leaseholders receive a first class service.
Develop and build more homes:
Individually both organisations have strong development and growth portfolios but by pooling resources, together we will be able to build more new homes than either of our legacy organisations could achieve individually.
As a combined organisation it is anticipated that we will be able to build 11,000 new homes over the next 10 years – this will have a massive impact on the housing crisis across the North-West and the communities in which we both operate.
Our focus will continue to be on those communities that we currently serve across Greater Manchester, Cheshire, Yorkshire, Derbyshire and beyond.
Invest in Communities:
Great Places and Equity each have a strong record of investment in their communities. This work has helped communities and individuals to manage their finances better, be more confident about re-entering employment and to be more active and healthier.
We believe that by pooling our skills and resources we can further strengthen our offer to our communities whilst being more efficient in the way those resources are deployed.
We therefore propose to promote stronger communities through:
Supporting people to manage their finances and debts.
Training people to use technology and promoting access to digital services.
Supporting people to be more involved in decision-making in their local communities.
Promoting volunteering programmes.
Working to reduce social isolation.
Promoting training and employment initiatives.
Acting as a signpost for people with entrepreneurial ambitions and support social enterprise.
Encouraging people to be active and make healthy lifestyle choices.
Complementary skills and experience in the housing sector:
Both Equity and Great Places have a wealth of knowledge and expertise in the housing sector. Equity prides itself on being a housing organisation that builds large numbers of homes relevant to the size of our organisation. We also specialise in Shared Ownership properties, whilst also having an in-house estate agency – Equity Living within the Group.
Great Places also has an abundance of experience in house building, regeneration, neighbourhood management and placemaking – they have worked in areas like New Broughton, Salford for many years, creating fantastic communities through reinvestment and close partnership working with the local community.